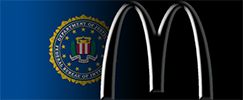 Federal-Bureau-of-Investigation.com is a NON-OFFICIAL website on the FBI.
I am the key witness, a whistleblower, and an analyst (see Dodd-Frank Act) accusing McDonald's Corporation and its subsidiary companies of having engaged in a pattern of rackeetering activity (RICO) through money laundering of sweepstakes/lottery frauds. I never worked for McDonald's but I use the term "whistleblower" because I nevertheless qualify as an "original source" on top of qualifying as an analyst. I relentlessly tried to warn several French magistrates, public prosecutors, and even ministers, about the aggravated frauds McDonald's was committing in France. I would find out at some point in time that McDonald's was corrupting French officials. I would also find out that these frauds took place in other countries including the United States. Since the French authorities seem unwilling to investigate the crimes committed by McDonald's Corporation and its affiliated companies, which shouldn't surprise anyone since I am accusing high level French officials of being corrupted, I decided to contact the Federal Bureau of Investigation. I am accusing McDonald's of corruption of foreign officials. Since I have been threatened and blackmailed by high level French officials, I am asking the Federal Bureau of Investigation for witness protection.
Some of the latest updates:
2-page only Statement of Facts that Beijing-based American lawyer Edward Lehman asked me to write.
Formal notice sent to the CEO of Neuberger Berman, George Walker, to explain why his company might be engaging in money laundering simply by investing in McDonald's Corporation.
I also wrote to the McDonald's CEO Chris Kempczinski and the Chief Legal Officer Desiree Ralls-Morrison but I am under the impression that they are burying their head in the sand.
Self Introduction
This is a NON-OFFICIAL website about the Federal Bureau of Investigation (F.B.I.). IT IS NOT affiliated to the F.B.I.
IMPORTANT: an archive of the previous version of this website can be found at archives.federal-bureau-of-investigation.com.
The purpose of this website is to publish my communications to the F.B.I.
One of this case is a high profile case involving McDonald's Corporation which I accuse of having committed aggravated fraud on a massive scale. I recommend you to read this document if you speak French.
For some yet unclear reasons, McDonald's France has so far managed to beat the odds and has succeeded not to be indicted.
Very weird things have been happening. Just to give you one example, multiple public legal documents have been doctored in at least 3 distinct procedures targeting McDonald's. As a result of these public legal documents being doctored, McDonald's systematically escaped indictment. You can visualize one example here, and another one here.
These public legal documents could only have been doctored by a magistrate or a court clerk. I believe it will most likely qualify as a serious crime under French criminal law. I hardly see how the French authorities could reasonably argue that it systematically was a mistake. Had it happened only one time, the French government could claim it was a mistake. Had it happened twice, they could claim it's a coincidence. But at least 3 times?
Furthermore, I formally notified, among other people, the Minister of Justice of France. As a result, a criminal investigation should have started to determine why public legal documments were falsified. IMPORTANT UPDATE PUBLISHED ON 2021-10-07 at 21:20 Beijing time: please read this thread on Twitter
Either the French authorities are dangerously incompetent, or they are corrupted. Or maybe a little bit of both.
I will try to publish more information soon.
Meanwhile, you can follow me on LinkedIn and/or Twitter.